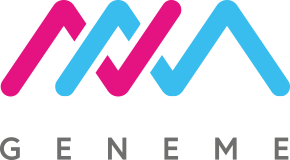 NordicDx AS is expanding its product portfolio and is now the official distributor of GeneMe's products in Scandinavia. The delivery capacity is large because the innovative diagnostic technology that GeneMe has developed is produced locally. The patented enzyme polymerase is a key element of the technology.
Available now are two NAAT tests (Nucleic Acid Amplification Test) targeting SARS-CoV-2, a PCR test (SAVD) and a LAMP test (FRANKD). The NAAT technology is categorized by the WHO as the gold standard in detecting the coronavirus that has triggered the current pandemic. Both products have CE-IVD approval in accordance with WHO guidelines.
SAVD is a PCR test consisting of a patented enzyme encoded against the ORF1ab gene of SARS CoV-2. Until now, all versions of the virus have been detected with mutations of various segments of the S gene, so that SAVD also detects these. The test is easy to perform, and any open RT-PCR machine with fluorescein can be used in the analysis. There is no need for RNA purification in sample analysis, and thus the sample result is available within 45 minutes. Due to the innovative technology that results in a simpler analysis method, SAVD can also be performed on smaller and mobile machines, as well as large machines with a high analysis volume. This range of analysis possibilities means that the tests can be taken directly where the need is ? in arrivals or departures halls, at the exit, before major events or during mass testing such as at border crossings or large facilities. Results from the test can be sent to the individual's mobile via the award-winning identity app YOTI.
FRANKD is an RT-LAMP test with the same technology and characteristics as SAVD. The difference from SAVD is that the LAMP technology is an isothermal analysis, i.e. there is no need for different heat cycles in the analysis itself, which is the case with a PCR test. This enables faster answers to tests as simpler machines can be used. NordicDx AS can possibly offer rental/sale of relevant machines for carrying out the tests. GeneMe is a leading biotechnology company specializing in genetic testing.
The company has declared compliance with EC Directive 98/79/EC on in vitro diagnostic medical devices from May 2020 and is approved for sale throughout the EU and UK. Homepage: www.geneme.eu
| | |
| --- | --- |
| Specificity | 100% |
| Sensitivity FRANKD / SAVD | 95 %/99 % |
| PPV (positive predictive value) | 97% |
| NPV (negative predictive value) | 100% |
For more information or enquiries, please contact us at [email protected].